Mount Whitney
Didn't have time to sleep
... after Wallyball game, I only manage to finished packing and rested for 2 hour.
We got the permit!
I was completely still asleep while Brandon managed to get us a permit for 2 night. There were only 3 permits left after us (
tough competition but we got it!
)
Parking lots were starting to fill up at whitney portal. Couple group of hiker were getting ready to start the trail. I pa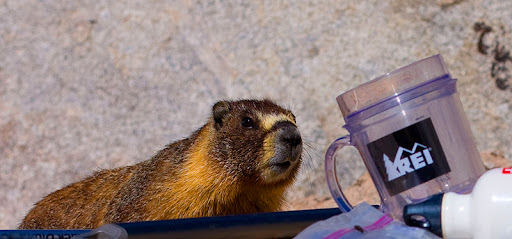 id attention on what they carried.. their gear... see if I was as prepared... or less prepared...
With 30 lb in my backpack , It was actually a good weight. Although I kept trying to remember if I missed anything important.
Whitney Portal to TrailCamp = 6 miles, 3640 feet elevation gain. Took our time taking picture and enjoying the hike up (
...and eating peanut butter and jelly
)
TrailCamp at 12000 feet was covered with snow patches and melting water stream. Consultation lake was still frozen underneath Mount McAdie.
Does people climb that ?
my question everytime I saw a rugged mountain.
Seeing the famous switchback (
from many many images that i've looked over the week
), I told my self, so this is the "
oh shit I have to hike that"
moment. It was steep....
snowy.... and amazingly beautiful.
That night wind picked up and smacked our tent pretty good. My borrowed 0 degree sleeping bag kept me very warm to the edge of too warm .
"
the chances to summit is pretty slim
" B
randon told me in the morning. I think the thought of this is not a "
going for summit
" trip put me in a good state of mind.. and also made us weren't rushed to start the hike which later on I wished we would have started earlier.
On the way up, we passed many hiker coming down already .
Why?
Too sketchy... not ready... no crampon... snow... Headache... altitude
sickness .
Well I wasn't trying to summit anyway. Nevertheless there was a little bit of hope that maybe it wasn't too bad.
We got up to the cable section . Put on our crampon, took out ice axe .Deep breath and started moving.
Step ... anchor .
.. step ... anchor..
. it's a slow pa
ce, but necessary. Brandon was watching me from the other side giving me instruction where to put my ice axe, and to make sure the ice axe was actually secured enought before step.
Man up
! I heard that couple time whenever I was struggling to put have a good anchor for my ice axe. Using 2 hand also helped.
I definitely need to train my arms for strength .
Using Crampon gave me confident. A lot of them .
I could see brandon was worry and debating if we should try to summit or turn back at some point. Somehow I feel we can make it, but of course I
didn't do the math in my head to actually count how many hours of day light we had.
Let's just go to trail crest and we recessed from t
here. A
fter traversing last long snowed switchback , finally made it to Trail Crest at 1.00 pm. It was another 2, 5 mile from there to the summit and another 1500 feet up.
we'll try to make it to the summit by 3.30 pm..
we HAVE to turn back by 4.00 pm, doesn't mat
ter where we were.
On the way up , I kept paying attention how my body reacted to altitude, and pretty happy with no sign of Altitude sickness.
12.000 feet ...checked .... 13000..... checked... 14000 .... checked.
Summit was a g
reat feeling, Everything is lower , the view was amazing, I could see alabama hills, Mount Langley, and who knows what other peak names around it.
Us and one other girl was the last person in the summit. And after a bunch of picture taking and resting and food, time to star another 5 miles back to the camp.
Racing with the sun before it completely left the snow covered with shadow was quiet adrenalin rush. And also hiking up hill after leaving summit wasn't exactly what i want for a decent
(There were part of up and down on the way from the summit to trailCrest)
.
Barely made it when the sun just started to leave the east side of trail crest. We past the top part of the switchback thru slussy snow.
the cable section already became icy for awhile. I can see the glimmering shinny ice section. ,
step .. anchor .. step... slow.. keep moving
..
Took off our crampon after that section and slowly made our way to the rest of the swit
Being back at the tent, analizing what happened that day , It felt great, a sense of accomplisment, a nice surprise of summit, ....
a beginning of many peak
....